Ultimate Guide to Marquee Hire
Crest Marquees Ltd was established in 2006 and has been delivering marquees of an exceptional quality ever since. We have grown extensively as a company and as a result we now offer not only different types of marquees, but also marquees that can be used to entertain up to 2,000 people in any one single event. As a result of working closely with local suppliers we can now provide everything you need to have a perfectly customised marquee. Crest Marquees is based in Birmingham, and we provide our services to locations across the Midlands, Southern England, Northern England and parts of Wales. Get in touch with us today to find out more about hiring a Crest Marquee.
Renting a marquee – Midlands marquee hire 
Whether it's a small gathering in your garden or an enormous party in hired grounds, the real benefit of renting a marquee for an event is that you can enjoy your special day at a location of your choice and with all the features that you want. Marquee hire is ideal for any private party, corporate event, wedding or festival as it allows you to create the right atmosphere for the occasion, with your choices of lighting, seating, tables and accessories. While a marquee can add professional style and glamour to your event, it can also be more comfortable for guests and help to create a more informal setting. For instance, you might want to have an outdoor function, but the unpredictability of British weather can mean that planning this is difficult. A clear-frame marquee with windows will allow you to combine the best of both indoor and outdoor events, with scenery glimpsed through clear panels or sections of the removed to give you a cool breeze.
Longer-term hire can be arranged for businesses hosting a series of events during a busy period such as Christmas or summer. The costs of renting for a longer period often works out much more cost effective than hiring a series of marquees during a season. With the growth in the popularity of festivals, marquees can be hired in many interesting configurations.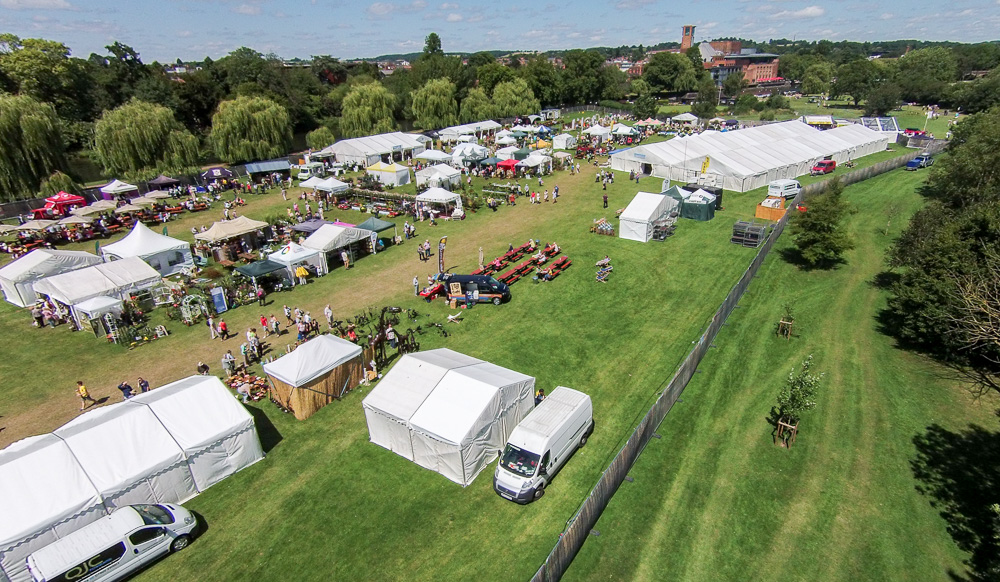 For weddings and parties, a marquee allows you to create a theme from start to finish. No two marquee set-ups are alike. Because of this flexibility, you will have greater control over your budget as you choose which features are essential to you. When you are investigating suppliers make sure you ask about the costs of all the little extras (or bigger things) that you might like to include.
If you have sufficient room, you could install your marquee in a garden or on a patio. You can also use a marquee to extend the space you have in your house. This type of temporary structure can be used for a host of other events, such as exhibitions, village shows, graduation ceremonies, a fashion evening or a conference. Modern marquees are designed to withstand the elements, and you can incorporate a surprising number of additional design and functional features, such as entrance doors, pagodas, blackout roof linings, toilets and walkway areas.
To hire a marquee you'll first need to get quotes according to the size of marquee you require, the length of hire and the date. Normally, the structure will be put up at least a day before the event, but you can ask the supplier to be flexible and work with your schedules. For larger installations, you may need to allow up to two days for construction. Marquees can be erected on all types of surface, including those with some uneven ground, and this can be planned during your initial consultation with a supplier. A site survey may also be needed to identify any other obstacles – such as underlying pipes or garden features – before erecting the marquee. The hire company should also be able to advise on the most suitable sort of flooring for your location. You can adapt the marquee according to the weather: sides can be removed or folded back in finer weather, and heaters can be installed if temperatures drop. A supplier can help with installing all the additional features you require, including furniture, lighting, electricity, fridges, a bar and a stage area. These can be added into your original order to ensure availability on the day, although a flexible hire company should allow you to make amendments to your order later on, or even find a marquee for you at the last minute. At Crest Marquees, we have a huge supply of marquees which can suit everything from a small gathering to a whole festival. Get in touch with us on 0121 773 8444 or via email to find out more about what we offer.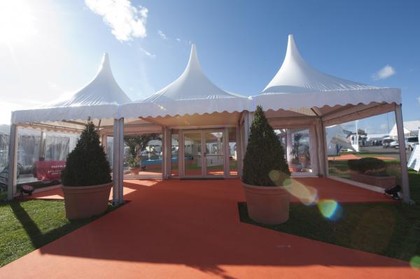 What is a marquee?
A marquee is a kind of variety of large-tent structure, which was traditionally used to provide shelter during summer events such as shows, festivals, and weddings, and to enable people to eat and drink in comfort. The word 'marquee' derives from a British version of the French term 'marquise', which was originally used to describe a large, sumptuous field tent used during a battle, and which was installed to accommodate a high-ranking officer. Modern innovations have extended the possible uses of marquees to events taking place all round the year, when a temporary structure is needed. The walls and roofs of modern marquees are normally made from PVC, which is a flexible and adaptable material. If hard walls are required, these are usually made from glass or PVC.
Traditionally, a marquee had a roof canopy, which was supported by tall central poles that were connected to smaller poles and guy ropes. Many modern marquees have a 'clear-span' structure, which means the walls are supported by frames rather than internal poles and guy ropes. The main advantage of this is that you won't have any obstacles when it comes to arranging seating and furniture. The PVC marquees are also extremely durable, weatherproof and easy to clean. They can be formed in all sorts of shapes and sizes according to your specifications. At Crest Marquees, our marquees are constructed in multiples of three metres, and in a range of lengths, also starting at three metres. They can be combined in many different ways, with a tough aluminium-and-steel supporting structure. Our soft-wall marquees are made from durable 650gsm PVC, which prevents water coming in. We can also supply marquees with toughened plastic walls and glass entrance doors, to create structures that retain their heat in winter months and keep out noise. These types of bespoke marquees are also particularly helpful if you are looking for a longer-term marquee hire.
Traditional marquees were made from cotton canvas covers, wooden poles, and hessian ropes but these are harder to maintain and more expensive. Luxury modern marquees can be lined with elegant fabrics that hide any of the remaining frame and create an atmospheric setting. For example, you can use black linings and lighting to create a beautiful night-sky effect. Marquees can also be hired without lining for a more cost-effective solution. In this case, the PVC walls and structure are visible, which makes this more suitable for functional or casual events.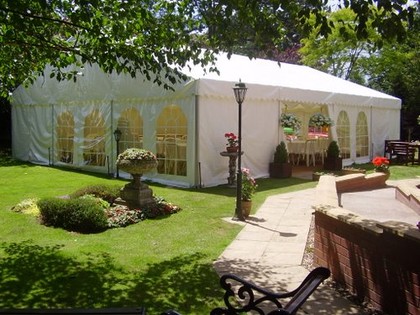 You can also have marquee structures installed adjacent to your building, to add a walkway linking your property and a larger marquee outside. A marquee can include reception areas and casual spaces for your guests to relax in before entering the main event. The entrance can be enhanced with a pagoda-style marquee. With its pointed-peak roof, this will provide a stylish and eye-catching focal point for your guests, delegates or festival goers. Or you can have mini-pagoda marquees spotted around the site.
With modern marquees, there are a number of available options for floor coverings. At the most basic level and if the grass or ground that the structure is on is flat enough, you may use nothing extra. For more comfort, you can opt for coconut matting. The most stable and elegant solution is an interlocking boarded floor, which can then be carpeted. Your supplier should be able to offer you a wide range of colours of carpet to choose from – including recycled carpet options – and provide outdoor flooring materials, if needed.
For parties, you may need to have a dance floor. These are normally made up from interlocking floor panels complete with aluminium edging, which both helps to keep the panels together and provides a ramped edge. This area should have a non-slip surface and be designed so that it will remain intact for the whole duration of the event.
Another thing to consider is the lighting that you would like to have. For the main section of your marquee, you can use chandeliers, up-lighting, festoon lighting all over the roof of the structure and / or spot lamps. If you have a dance area, you can find marquee suppliers who offer everything from music-sensitive LED lighting, LED baton lights in different colours, to starlight roof linings. Get in touch with us today to find out more about what we offer.
Why would someone or a company want to use/hire a marquee?
A marquee is ideal if you have a large number of guests who can't be accommodated by a typical venue, or if you have a vision for your event that requires a 'blank canvas' with a dynamic space for you to work with. For smaller events, a marquee allows you to host an event at your own choice of location and with your own caterers, which saves you on venue hire and allows you more flexibility with your budget. If you don't have a suitable location such as a patio, garden, field or car park for a marquee to be installed, you can find venues that allow you to install them on their land. This is perfect if beautiful natural scenery is part of what you have in mind for your event.
Marquees are also a good idea for a birthday party, christening, or other special occasion, when you'd like to create a special theme or make the perfect space for your friends and loved ones. For instance, a hired marquee can allow parents to host an event within a self-contained space for a teenager's birthday that is still within arm's reach if needed. If you are holding a family party it can allow you to create separate spaces for adults, teens and children.
A marquee is perfect if you are having an outdoor event and are worried about unpredictable weather. Modern marquees should be able to withstand all weather conditions. You can ask your supplier to install matting or wooden flooring to ensure that guests don't get muddy. If you have outside toilets or a separate catering tent, these can be connected to the main tent so that your guests don't need to get wet at all. An experienced supplier will be able to provide you with unobtrusive heating for the colder months. Finally, in hot weather marquees provide shade, and can be designed so that they have windows located to avoid the glare of the sun and allow a free movement of air.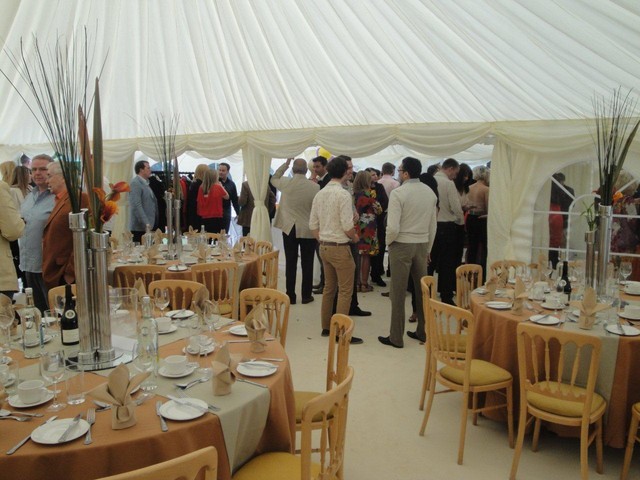 Celebrations
Hiring a marquee allows you to choose the location of your wedding, civil ceremony, party or other special celebration; whether it is at your own or your parents' home, or a field or site that has holds memories. You can find a site with coastal or country views, or hold your event somewhere you visited as a child. Marquees allow you to design the layout of the event to make the most of your location, day and night. If you have any kind of accessible land, this could be a choice for your celebration. If not, you can search the internet for all sorts of locations, from castles to caravan sites, where it is possible for you to install a marquee. Crest Marquees would be happy to help you come up with some ideas based on your chosen location. If you have access to toilets and power, you won't need these to be included with your marquee hire so the inventory of items you hire can be developed accordingly.
There is no need to acquire for permission to put up a marquee on private land, unless you are including a paid-for bar or intending to hold a civil wedding ceremony in your marquee. In these cases, you would need to apply to your local authority for permission. You would be asked to provide a layout plan of your event to apply for a licence. At Crest Marquees, we can supply you with the plan and advise you on how to go about this. Call us on 0121 773 8444 or email at info@crestmarquees.co.uk for further information.
Wedding marquees
Crest Marquees specialises in helping to create your dream wedding day. We plan and supply hundreds of bespoke wedding marquees every year and our meticulous attention to detail ensures fantastic results. Marquees are very flexible and their design provides a lot of scope for the bride and groom to design a theme that expresses their characters. Unlike a fixed venue, where the decorative possibilities may be limited by the size and shape of the room, with a wedding marquee hire almost anything is possible. You can have your marquee long, square, l-shaped; romantic, 'classic', or themed. There are very few limits on the possibilities.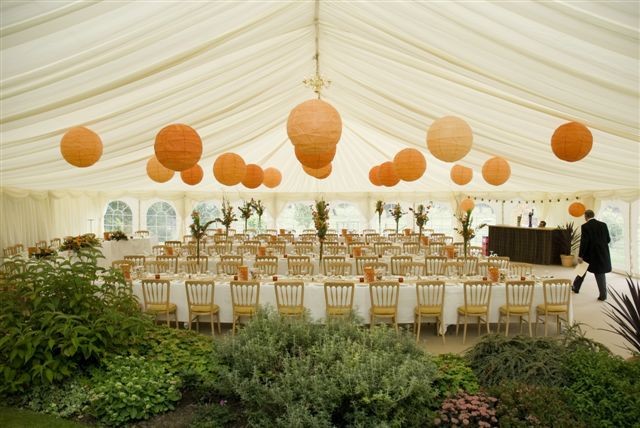 Private parties
Take your pick from subtle finishing touches such as fabrics, starlight roof linings, 52 choices of coloured carpets and bespoke lighting solutions to create a truly spectacular event in your own home or at a location of your choice. Whether you're having a small gathering in your garden or an all-out party for a thousand people, Crest Marquees will tailor the structure to your specifications. We have experience offering marquee hire for the following events:
Anniversaries
Garden parties
Christenings
Bar mitzvahs
Funerals
Formal balls
Special celebrations
If your event isn't mentioned just get in touch to find out what we can do for you. We understand that every event is personal so whatever the time of year spectacular landscape lighting can be used in combination with windows to enhance interesting views and highlight garden features. Our equipment can be used to overcome any issues that your site may present, such as uneven or sloping ground, hard-standing areas and difficult access. Let us create the atmosphere to suit your specific needs; pick from a wide variety of interior colours or opt for a theme. Let your imagination run wild!
Crest marquees will endeavour to provide full assistance with all of your arrangements by organising catering and equipment, floral decoration, furniture hire, heater hire and luxury restrooms if required.
All we need to know from you is what you want to achieve with your special day – and we will handle the rest. Call us on 0121 773 8444 or email at info@crestmarquees.co.uk for further information.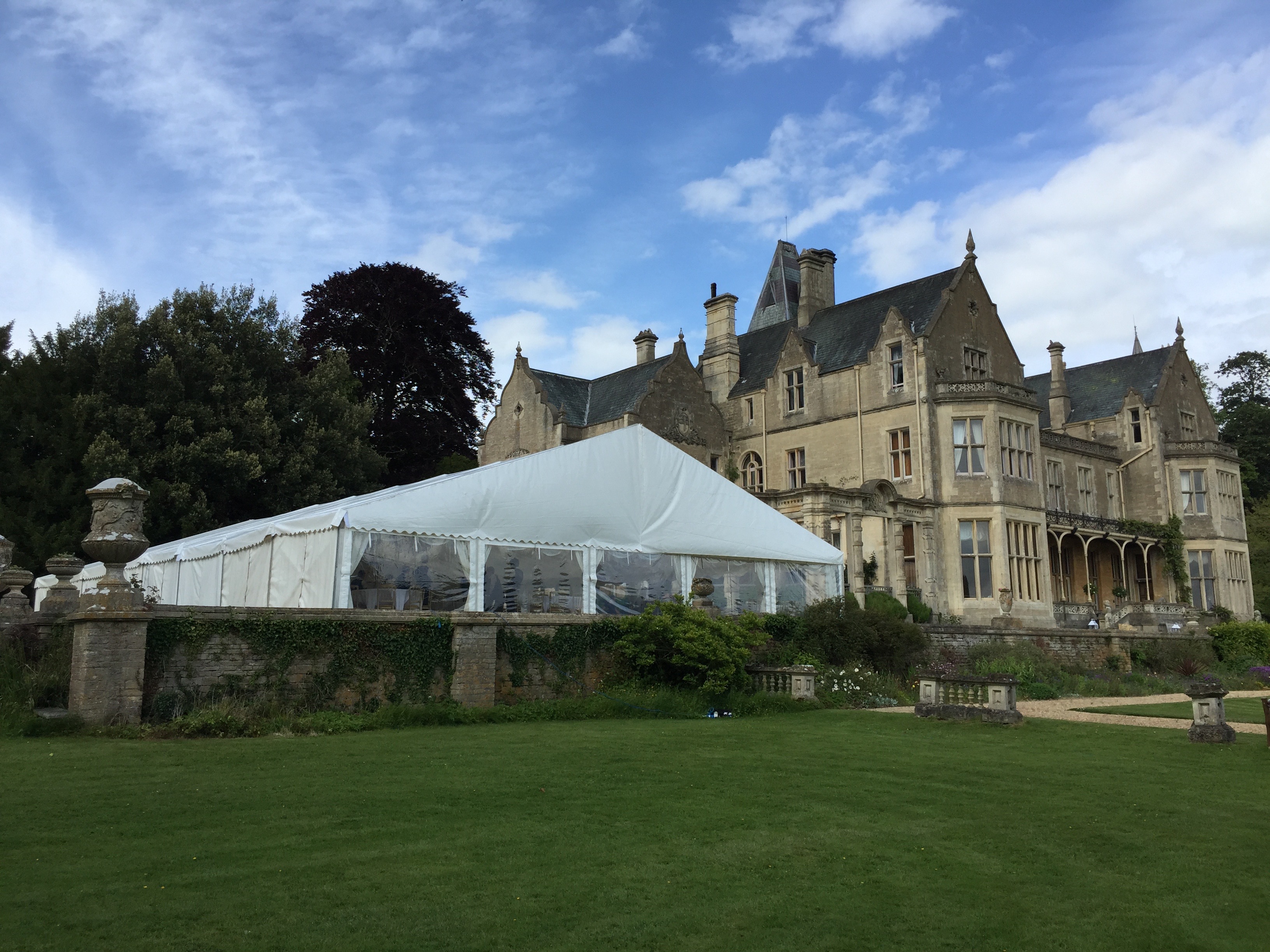 Business events
Marquees can be used for all types of business events, from large or small exhibitions, to product launches, reward days, PR events, training days, conferences and away-days. At Crest Marquees, our clear-span event marquees can be installed on lawns, car parks, on hard ground areas next to buildings, and in fields and parkland. We can help you create original, dramatic and professionally designed environments in which to entertain your clients and colleagues alike. If you are looking for last-minute or long-term marquee hire, get in touch and we'll do our best to help.
Here are just a few examples of the many successful events we have helped organise. If what you have in mind isn't listed here please contact us, as we will happily fulfill your precise requirements:
Cocktail parties and dinner dances
Club balls
Christmas parties
Product launches and promotional events
Corporate fun days
Exhibitions and shows
Corporate anniversaries
Charity parties
Sporting hospitality tents
Proms, parties and balls
Long-term hire
Crest Marquees is the first choice for corporate entertainment events in the West Midlands. We focus on our customers' needs from start to finish; with our meticulous event planning and rigorous execution, you can rely on us to make your corporate event a huge success.
Our extensive knowledge of the corporate marquee-hire sector means we have the capabilities and experience to overcome difficult access and time constraints that may affect the installation of your marquee. We are able to mediate with the relevant authorities and are extremely flexible with our working hours, to ensure our product is delivered on time and to your exact specification.
Crest Marquees is a fully compliant member of Marquee Hire Trade Organisation (MHTO). We carry out full risk assessments for each and every event we supply to, ensuring that the event goes ahead without a hitch and that your marquee adheres to our strict health and safety standards. We are happy to supply any necessary health and safety documentation that our clients might require.
We have earned contracts with local authorities, universities, schools, hospitals and blue-chip companies in the West Midlands and their repeat business is testament itself to our high quality service.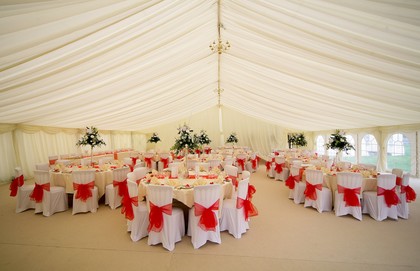 For a business event, we can supply you with reception marquees, refreshment areas, entertainment marquees, catering tents and facilities, portable toilets, event power, lighting and furniture hire, such as tables and chairs. Whether you are planning a formal event or a party, we can guide you through the process of planning all the equipment you are likely to need. For a seated event, we recommend that you allow a minimum of 15 square feet per person (based on 5ft round tables).
We will handle all the on-site preparation and provide a marquee that is ready for you to use. After the hire period is over, we will remove the marquee and leave the site as you found it. Call us on 0121 773 8444 or email at info@crestmarquees.co.uk for further information.
Festivals
If you're looking for twenty or even more marquees, we have a wide enough range to accommodate pretty much all demand, even in the summer season. Because we have an extensive range we can often accommodate large orders even at the last minute. As with all of our marquee hire services, these structures are available in a wide range of designs and with all the optional extras that you need. Crest Marquees has more than a decade's worth of experience supplying marquees to businesses of all kinds, and we will work with you to match your exact requirements. You'll find our marquee delivery, set-up and removal process couldn't be easier for you. Get in touch with us by email or phone to let us know what you're looking for and we'll be pleased to help.
What does Crest Marquee offer?
All our marquees are modern 'clear-span' marquees, which means that they do not have any obtrusive internal poles or guy ropes to support the frame other than wall pillars. These marquees can be hired with a soft-fabric lining for a more luxurious feel, and you can can opt to include a host of additional extras. Choose from a range of entrance-ways, flooring and customised lighting. Select your style of table, chairs and even have heating for colder winter months.
We have a great deal of expertise with supplying marquees for weddings, parties, business functions and festivals, and our friendly team will be delighted to help you decide what is the best layout for your event and what equipment you might need. We have an easy-to-use online quote system which will give you a quick quote based on the number of guests or delegates you plan to invite and seat. Our aim is to provide marquees to suit all needs and budgets. Or you can fill in the full form to include a quote for all the additional extras such as lining, and any seasonal discounts. Choose one of two main types of marquees, including traditional marquees and pagoda marquees (also known as Chinese-hat marquees).
Crest Marquees has a huge range of supplies to help you personalise your structure, including flags, drapes and roof coverings. We are able to offer bespoke marquees which we manufacture ourselves, in a range of colours, rather than just the standard ivory. Our team can create clear PVC roofs, gables and windows. You can choose marquees with toughened plastic walls and even glass doors to keep the cold and noise out in winter months. These structures are perfect for longer term hires, such as for when you are having a series of office Christmas parties at your venue or if you are looking for a temporary storage space for your business.
If you have an unusual site, an ambitious project or would just like to find out about how we can help make your event extra special, Crest Marquees will be more than happy to offer a free site survey, and this can help you plan your event through our free 3D-planning layout service. We will supply you with the plan to allow you to visualise your specific marquee hire and give you a precise idea of where the equipment will be, inside and outside the marquee. For example, this can include where the dance floor, stage or bar will be positioned, or how to incorporate your existing garden features. These bespoke plans will not only help you to see your marquee layout in detail, but the process also allows our clients to make alterations to their marquee, be it the size or layout, before the hire contract is finalised. We offer highly competitive pricing with no hidden extras.

Another big advantage of a 3D plan is that you can easily see at a glance where each of your guests will be seated, who they will be sitting next to and where each table is in relation to the top table, bar area and stage. We are happy to generate these plans for free after a 'no obligation' site visit. We believe that extensive planning at this stage is crucial for bigger events, to ensure your event runs smoothly and that you are 100% satisfied with your marquee.
With more than ten years' experience of supplying marquees to our customers and providing an exceptionally high level of customer service, we can supply stunning, elegant structures to accommodate up to 2,000 people. We guarantee that all our marquees will be spotless and of the highest quality. Our professional reputation is based on providing everything you will need to make sure our marquees live up to your expectations.
Whether you choose a pagoda marquee or a traditional structure, you'll then need to select whether you would like us to supply linings, floor coverings, tables, lighting and chairs. Get in touch to find out about all the extras we can supply, including:
Marquee lining
Starlight roof
Chairs
Tables
Table linen
Lighting
Dance floor
Wooden floor
Stage
Carpet (new/used) or coconut matting
Glazed entrance doors
'Reveal' curtain
Heater
Bespoke marquees
Pagoda marquees
When you are happy with what we are proposing, we can arrange the payment of a deposit of 20% of the order vale. Normally, we ask for seven days' notice to arrange the installation of a marquee and all the equipment, although we can often accommodate last-minute requests. We require cleared funds 14 days prior to the event date for the remainder of the fee. Depending on how secure your location is, Crest Marquees recommends customers have adequate insurance in place to cover the value of the equipment hired against deliberate damage or theft.
Delivery and collection costs are calculated separately from the marquee costs (see below). Our hire period is typically 72 hours. Your marquee will usually be installed on a Thursday/ Friday for a weekend event and it will be collected on a Monday or Tuesday.
Longer periods of hire are available on request. We aim to please with our prices and for our long-term marquee hire rent is charged monthly, with a fixed level of reduction of our rates. Specific and 'out of hours' deliveries are also available for those who require extra flexibility. Call us on 0121 773 8444 or email at info@crestmarquees.co.uk for further information.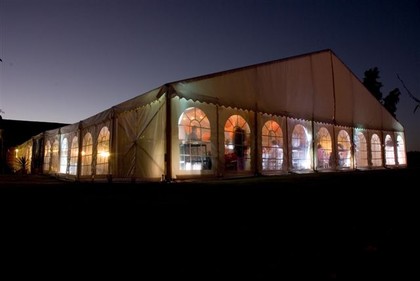 Tips for hiring a marquee
Have a clear idea of how many people you are hosting and the structure of your event prior to booking to guarantee that you have the right layout for your marquee (for more on this, see below)
Cut the grass a few days before the installation of the marquee to allow the grass time to dry out. The grass may dry out and fade a little while the structure is in place but should recover quickly if the lawn is in reasonable condition
If you are hiring the marquee for a wedding or other special occasion, you might want to give the number of the marquee hire to someone trustworthy in case any issues should arise on the day. If you work with a reputable hire company, this will be unlikely, but it could be helpful to have this prepared
The quality of marquee hire services varies greatly. Work with an experienced supplier who is able to offer a guarantee of their services
Book well in advance to ensure that what you are looking for is available
If you are not hosting the event on your own site, make sure are fully aware of the location's requirements well in advance
Make sure you know who is responsible for clearing up, and any losses or damage to equipment that you have hired. You will normally be responsible for the security of all equipment that is included in your marquee hire while it is in your care. If there is any chance that it is at risk from theft or deliberate damage you should find some sort of insurance against it. You can have extra peace of mind if you find a supplier who is able to offer you some level of indemnity in the event of an incident
To help you choose the size of your marquee, you might like to bear the following suggestions in mind.
The main considerations when determining the size of the marquee to hire are:
The available space
The number of guests attending
How many are to be seated
Additional equipment required – for example a dance floor, stage, reception area, catering area etc.
Usually a party needs to include some seating, but this will take up more room (roughly twice the space of standing area) than having guests standing for a buffet. A good suggestion for a party would be to allow up to half the number of seats that you have as guests, if you are not planning on having a sit-down meal.
To be more specific, you would normally need a minimum of eight square feet per person for a buffet event, or a minimum of 15 square feet per person (based on 5ft round tables) for a seated event.
For a seated event with a disco or dance floor, a minimum of 18 square foot per person is ideal. For a party, you'll normally also want to have a bar area, too. That mighty be as simple as a few trestle tables in the corner, or it could be a fully-staffed bar. We are able to supply a bar unit, fridges and all the other equipment you might need for this.
For younger party-goers, such as for an 18th birthday, you might like to choose plastic chairs instead of a wooden banqueting chairs, and have pre-used carpet instead of new. You may use an unlined marquee but have beautiful starlight roof linings for the dance area.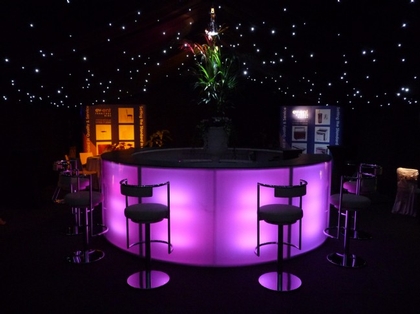 Areas of the country covered by Crest Marquees
We supply our services throughout the Midlands, Southern England, Northern England and parts of Wales. Crest Marquees is based in central England so we can cover large parts of the country relatively easily. We are within easy reach of the following English counties and areas:
Midlands
East Midlands
Derbyshire
Leicestershire
Northamptonshire
Lincolnshire
West Midlands,
Herefordshire
Shropshire
Staffordshire
Warwickshire
Worcestershire
West Midlands Metropolitan
Northern England
Cheshire
Greater Manchester
Nottinghamshire
Merseyside
North Yorkshire
East Riding of Yorkshire
South Yorkshire
West Yorkshire
Lancashire
South West
Bristol
Gloucestershire
Hampshire
Somerset
Wiltshire
South East
Oxfordshire
Berkshire
Bedfordshire
Buckinghamshire
East Sussex
Hertfordshire
Kent
Rutland
Surrey
West Sussex
East Anglia
Cambridgeshire
Essex
Norfolk
Suffolk
Greater London
City of London
We also cover the following counties of Wales:
Monmouthshire (Sir Fynwy)
Glamorgan (Sir Forgannwg or Morgannwg)
Carmarthenshire (Sir Gaerfyrddin or Sir Gâr)
Cardiganshire (Sir Aberteifi or Ceredigion)
Brecknockshire (Sir Frycheiniog)
Radnorshire (Sir Faesyfed)
Montgomeryshire (Sir Drefaldwyn)
Denbighshire (Sir Ddinbych)
Flintshire (Sir y Fflint)
Merionethshire (Sir Feirionnydd or Meirionnydd)
Caernarfonshire (Sir Gaernarfon).
If you are unsure of whether we can cover your area, please do not hesitate to contact us by email or telephone (0121 773 8444). If you would like an indication of the costs of delivery and/or collection and you have five minutes to complete our online price calculator, we will tell you the delivery cost instantly if this amount is likely to be less than £500.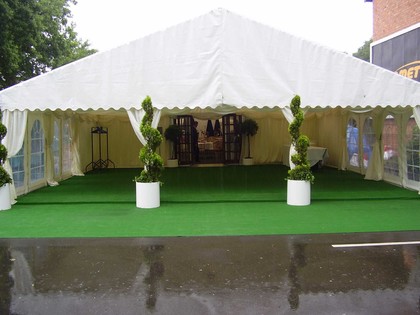 Why choose Crest Marquees?
From a luxury marquee for a thousand to a basic design according to your specifications, Crest Marquees works with projects of all sizes with our usual professionalism. Unlike our bigger competitors we provide a fully personalised service and high-quality marquees to suit all budgets and specifications. Because we make our own marquees we can deal with almost any size of order and often at very little notice. We have the facility to supply bespoke marquees of almost any shape and design.
We have an easy-to-use online calculator for the costs of a basic marquee hire and a full inventory of the items you are likely to need for your event. Crest Marquees prides its reputation on our friendly and professional service to ensure that your marquee lives up to your expectations. We also guarantee the quality of our services, which include flexible delivery and installation of all hired furniture and accessories, 3D layouts to help you plan ahead. Our team will be thrilled to make your dream event a reality.
We offer: Marquees Midlands, marquee hire Northampton, wedding marquee hire West Midlands, marquees West Midlands, marquee hire Hereford, marquee hire Birmingham, marquee hire in Birmingham, marquee Birmingham, marquee hire Coventry, marquee hire Solihull, marquee hire Walsall, marquee hire Shrewsbury, marquee hire Staffordshire, marquee hire Warwickshire, marquee hire Worcestershire, marquee hire Worcester, wedding marquee hire Cheshire, marquee hire Manchester, marquee hire London, marquee hire Oxfordshire, marquee hire Reading, and marquee hire Bristol.
Get in touch today to arrange a free and no-obligation quote or to discuss your needs further.