Wedding Marquees for Hire
Are you Ready to Make Your Dream Wedding a Reality?
Crest Marquees specialise in helping to make your dream wedding a day to remember, for all the family. We plan and supply hundreds of bespoke wedding marquees every year and our meticulous attention to detail ensures fantastic results every time.
Marquees can be very flexible in their application; they provide a lot of scope to allow the bride and groom to design a theme and stamp their character on their wedding in any way which they choose. Unlike in a fixed venue where the decorative possibilities may be limited and the size and shape of the room are fixed, in a marquee anything is possible. You can have your marquee long, square, L-shaped; romantic, classical, themed. There are very few limitations.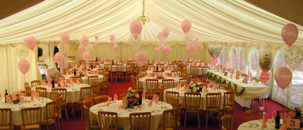 At Crest Marquees, we take great pride in guiding you through the hire process from start to finish; meticulously ensuring our marquees fit your exacting standards. We guarantee that you will be 100% satisfied; so sit back, relax, and let us make your dream wedding a reality.
Why Should you Choose Crest Marquees?

Crest Marquees Ltd was established in 2006. All of our equipment is modern, spotless and of a very high quality. A marquee creates a unique atmosphere – adding a touch of class to an event, but simultaneously helping to create a relaxed environment, in a setting of your choice. So on your big day, you can be confident of a beautiful, pristine marquee.
With our years of experience, we know that planning your special day can prove to be a stressful experience at times, so why not let us help you? Our experienced staff will take great care and attention to help you through the necessary steps to ensure that your marquee hire reflects the special nature of your day.
The real benefit of a marquee is its flexibility. You can enjoy your special day with all the family in familiar surroundings; where you ultimately feel most comfortable, in your own home and grounds. Or if you want your marquee elsewhere (for example a historic site or a grand country estate), we can help you to achieve this.
What type of marquee?
At Crest Marquees, we offer you endless possibilities to personalise your marquee, be it a specific theme, personalised lighting, colour schemes or design. We take great pride in planning your marquee hire to ensure it reflects you and your partner's wishes and personalities. At Crest Marquees, the only limitation is your imagination.
So why not grab yourself a quick quote, sit back, relax and let us make your dream wedding a reality.